3 things we can learn from the Super Bowl 'Social Media Command Centre'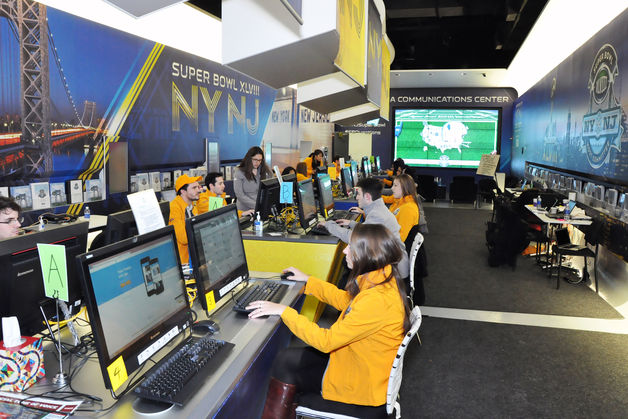 This weekend sees Super Bowl XLVIII hit our TV screens, with a huge global audience tuning in to see the Seattle Seahawks take on the Denver Broncos at the MetLife Stadium, New Jersey.  It is a huge event by anyones standards when it comes to a single game day, surpassing the FA Cup Final, UEFA Champions League Final and any other non-national games.
With thousands of spectators entering the city it requires a lot of planning and communication to ensure that everyone has a great day.  The Americans are renowned for their concentration on customer service, and the Super Bowl is no different.  Here are the top 3 take-aways from this weekends big day when it comes to social media.
1.  Social Media is more than just a marketing channel
Many times we see brand, federation and team accounts pushing messages out to fans (or customers as they are usually called now) and when it comes to a big cup final this goes into overdrive.  The organisers of this years Super Bowl final have taken on the Social Media Command Centre concept, the third year it has been used, to interact with fans.
With an estimated 400,000 visitors expected in the region, it is key for the organisers to be in touch with these people on platforms they are native to.  Alfred F. Kelly Jr., President and CEO of the NY/NJ Super Bowl Host Committee said;
"Social media plays a vital role in our day-to-day lives, and as such, it was only natural that we create a comprehensive digital component to boost our virtual capabilities to serve visitors.  We are truly excited to provide a facility and concierge-like service that offers fans and visitors access to the most up-to-date information surrounding Super Bowl XLVIII."
Focusing on Twitter as the primary communications tool, but also looking at Facebook as well, the centre will be equipped with 45 computers – 20 desktops and 25 laptop notebooks. Information flow was developed and will be sourced from the NY/NJ Super Bowl Host Committee, the National Football League, and numerous New York and New Jersey partners, including New York State, NYC & Co., NJ State Tourism, and all the region's primary transit agencies.
2. It's not all about cost
The first thing that will enter many people's minds when it comes to having a Social Media Command Centre will be the cost.  This doesn't have to be the case.  The Super Bowl centre is manned by a daily average of 40 team members, all of whom are serving as 'virtual volunteers'.  Volunteers have long been part of the make up of sport and will continue to be so, as we saw at the 2012 Olympic Games in London.
Having partnerships with the right companies to source software and IT equipment is not hard.  Then it's a matter of having the right training in place for the 'volunteers' and an escalation process if anything happens that the pro-staff should be aware of.
3.  Let people know in advance
You can have the best set up in the world, but if no-one knows about it then it will become an empty space with tumbleweed rolling across the virtual ground.  Letting people know that they can get the info they need, what accounts to follow, what hashtags to use is critical.
For the Super Bowl, they have a dedicated account @NYNJSUPERBOWL and also the hashtag #SBQuestions.  This is similar to the Australian Tennis Open that has just passed where they have a dedicated 'help' service on Twitter where they answer any questions that people may have.
Having a dedicated channel to help people is a great idea and more should do this, especially around match days.  Giving people information on travel updates, activation zones they can visit, etc.  I'm surprised many more teams and events don't do this.  They have customer service staff that man the phones, it is not hard to extend this to social media with the right people.
Overall
The idea of a Social Media Command Center is not new by any means.  The Super Bowl has been running theirs since 2012 but it has yet to catch on outside of the US.  If you go to a Cup Final or multi-day event it is rare to find out local information via official accounts, they will be busy with behind-the-scenes content and promotional messages.  As 3G, 4G and wifi connectivity improves then fans using their mobiles at venues is only going to increase so sport has to be ready to up their game.
Twitter's main points when it comes to content to succeed on the platform (Informative, Entertaining, Helpful) is one that many don't take on board.  Being helpful/useful is the basic component of customer service but when it comes to sport we are pretty poor at it in the UK.
Yes you could say that a 'Command Centre' is a bit gimmicky but it's this that enables them to PR the service so easily.  Letting fans know what they can expect and also see it in action.  The Super Bowl command post is not actually at the stadium but at 810 Seventh Avenue in mid-town Manhattan.  So, while it's not open to the public, it has floor-to-ceiling windows so passers-by can see into it and check on what is going on as it's in a very public area.  Another great PR ploy to ensure it gets plenty of column inches as the week progresses.
So, at the Commonwealth Games, FA Cup, Champions League, World Cup Finals, etc, lets see social media truly utilised in a useful way and get people involved who are great at customer service to pass on information when fans really need it.
Eurosport has entered a five-year deal with ATP World Tour and ATP Media that will allow them to screen 37 ATP World Tournaments a year.
What we learned from Digital Sport London's October event.
Global online football publisher Goal has signed its second professional FIFA player. Danny Taylor joins Graham 'GrayzaGoal' McIntyre to complete Goal's eSports team and become Goal's first Playstation player. Prior