2017: The year Twitter brings internet live broadcasting to the main stream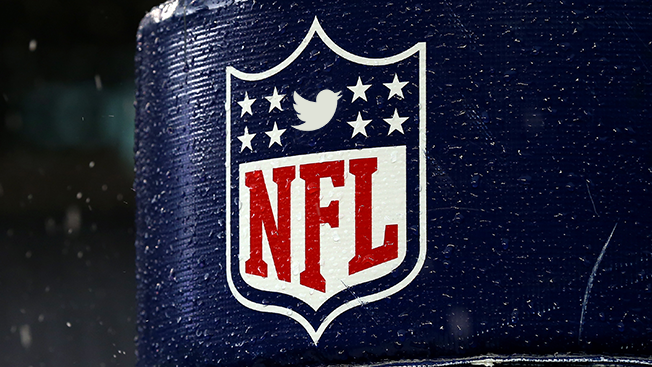 2016 was the year when Twitter pushed the limits of its engagement with live sport.
Ever since its inception, Twitter has been the one social network that lends itself perfectly to real time conversations. It's short, it's sharp and it allows for conversations with – and the amplification of – the views of people you've never even met before.
Because of all this, Twitter has been very amenable to sports fans. And up until now, the platform's engagement with sport has been major. Now, it's huge.
This year, Twitter dipped its toes into the, er, stream of live broadcasting, plucking bits and pieces of the rights to NFL, NBA, MLB and even the Premier League. Not all were live broadcasts, and some were only the ability to have highlights hosted on the Twitter accounts of the actual rights holders. But either way, 2016 was the year Twitter went wild with sport and video. And that's not even to mention Twitter's new Periscope-powered 'go live' initiative.
Sports broadcasting and Twitter is a natural fit. You can already join the conversation amongst everyone watching the game – friends and experts included – by logging into Twitter. Doesn't it make sense to also watch the game there?
The NFL has been, perhaps, the most active sporting league on Twitter this year. Good publicity garnered from the successful streaming of Thursday Night Football (even if a Thursday night game hasn't been overly successful for the NFL itself) was met with bad publicity over the rule banning teams from using footage of a live game in gif form on their Twitter feeds.
And news that the NFL is to stream some live games in China on social network Weibo is another new dawn for streaming on social.
But that just goes to show that the main pillars of Twitter's courtship with live sport are alive and well. For one, clearly fans all over the world want to watch their sport over a live stream more and more. They also seem to want the ability to use social media during the game – for various reasons, from conversation and reaction to stats and analysis. And, crucially, Twitter allows sports teams to engage on their own terms with a worldwide audience on the very platform on which they are watching the game.
As I type this, I'm sitting in a room beaming music from my phone to a Chromecast device in my not-very-smart TV. On the screen, though, is a corny looped video of an open fire – a backdrop I've tried, unsuccessfully, to remove. So I'm stuck with it, and I've tried to ignore it.
What I've discovered, though, as the sun has set and twilight's darkness begins to enrobe the room, is that the light has a bizarrely warming effect. It's not like having a real fire, but it's not as far off as I expected it to be. I'm warming to it, so to speak.
All of this is to say two things. One, that live streaming should never mean 'mobile' or 'on the go'. I'm streaming my music, sure, but there's nothing on-the-go about it – i'm virtually sitting in front of the fire, and that's pretty satisfying. And secondly, that you can actually do a surprisingly good job at mimicking an old, nostalgic, technologically-challenged world in a convenient and modern way.
2016 was the year that Twitter tested the waters, but it was surely also the year that we all realised that the waters were really quite pleasant.
There's still something odd in the idea of streaming a sporting event – or a film, or anything visual, really – because we still have the idea that, by streaming it on mobile, we're consuming it on mobile. And that by streaming it on mobile, we're watching on a tiny screen where we can't possibly have a relaxed enjoyment of a game. A bad thought for sports leagues all around the world, though presumably an even worse one for a Hollywood director who put blood, sweat and tears into getting the scene right, only for it to be watched on a five inch piece of Gorilla Glass.
But that doesn't have to be true. And if 2017 is to be the year we stream more sport than ever, maybe it will also be the year where Twitter and its live streaming challengers show us that their way is just as comfortable as any other way. And it'll have to be – Twitter and Sina Weibo have made it global.
Digital Sport are official media partners for SPORTO's conference in Slovenia, Portoroz on the 21st November. SPORTO is welcoming a whole host of guests & panellists as everyone comes together
Sportlogiq is bringing AI performance analytics to world's largest professional lacrosse property  Sportlogiq and the National Lacrosse League (NLL), the largest and most successful professional lacrosse property in the world,
'Where does Cricket go from here' and the 'Sports Publisher Summit' were very successful events that involved incredibly insightful discussion followed by a Q+A, debate and networking. It's a great