Twitter and now YouTube used to break transfer news
Over the last couple of seasons we have seen a fundamental shift in the way that football news is being reported.  This is not only from the media, all of whom have reporters on Twitter now and break news first on the platform.
Football clubs have been equally adept at finding new ways in which to reach out to the press and fans.  All the Premier League clubs (and most Football League) have a social media presence now and people dedicated to servicing the needs to provide content on Twitter, Facebook, YouTube, etc.
Twitter is the go-to place if you want to keep up with who is signing who and want to know first so you can let your mates know (football fans love having those 'first fast' facts).  The Football League for example has been working with all their clubs to standardise the hashtag for this transfer window.
It's a great idea and you can keep up with all the signings by following the #FLTransfer hashtag.  Keeping all this info in one place and creating your own column on Tweetdeck or Hootsuite will provide all your transfer needs for the lower divisions.
QPR have been very active on social media since the arrival of Tony Fernandes, himself a massive advocate of using the channels to get closer to the fans.  Something he initially instigated with his F1 team.  Since then the club have been livestreaming their press conferences so any fan can see and hear Harry Redknapp the day before games.
This week they have used one of their other main platforms, YouTube, to announce the signing of new striker, Loic Remy.  They show him signing a couple of shirts and then writing a welcome note on the official QPR Twitter account.  A nice way to make things official and very visual.  It's already gathered over 28k views and will have given the channel some added exposure for future activations.
With a couple of weeks left until Transfer Deadline Day (when SkySports spend all day camped outside of Premier League football grounds), there may be some more breaking news on clubs social media pages.  What will be done on deadline day itself?  Let the fun commence!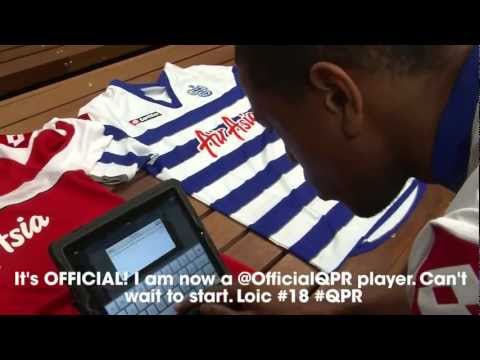 This article looks at what localisation of digital content involves, some incorrect assumptions applied by teams, legal issues to be considered and why localisation is an option sports teams should consider seriously.
With the brand new introduction of the 'whos talking about this' function on all Facebook Pages as from last night, I thought that I'd put together a Premier League table. Here it is…
NineteenEightyFour take a look at how F1 teams used social media to unveil their new feats of engineering, and finds out what makes a successful launch campaign.