ScorePredictor: the missing link between Fan Engagement and CRM?
We all love to get involved with our favourite teams when it comes to sport.  For some it may be placing a bet, for others it's running their fantasy league team and for people like me it's competing in a predictor league.
Taking this behaviour and creating something that is highly attractive for both fans and clubs has been something that Benn Achilleas, founder of Neoco and TrueFan, has been succeeding at where others have failed.  His ScorePredictor started out with Chelsea FC and is now being used by that most digital of clubs, Manchester City.
So what's in it for the clubs?  TrueFan describes itself as a 'sports fan data specialist' and this gives a major clue to how it works for clubs.  It is about rewarding fans for the loyalty whilst enabling clubs to capture meaningful data.  Social CRM.
By gamifying existing fan behaviour across relevant social channels, we enable clubs to feed rich new data straight into their existing CRM system. Our products introduce clubs to previously unknown fans, enhance the level of existing fan data, and ultimately bring clubs closer to their TrueFans.
Manchester City have been testing out ScorePredictor during Champions League fixtures this season and, with tonights massive game against Chelsea, now spread that out to its Premier League fixtures.
In an example to show how successful can be, and willing fans are to give away their data in exchange for chances to win prizes (and get involved with the club/other fans).  This fixture only opened for predicting at the start of the weekend and attracted over 10,000 individual predictions in the few few hours of going live.
On Facebook, the main driver used to push fans onto the page along with Twitter, has seen posts promoting it 'liked' over 50,000 times, shared over 1,000 times and had 4,000 comments.  This has been through 2 posts on their page of 9m fans from around the world, all vying for the prize of a signed Sergio Aguero shirt.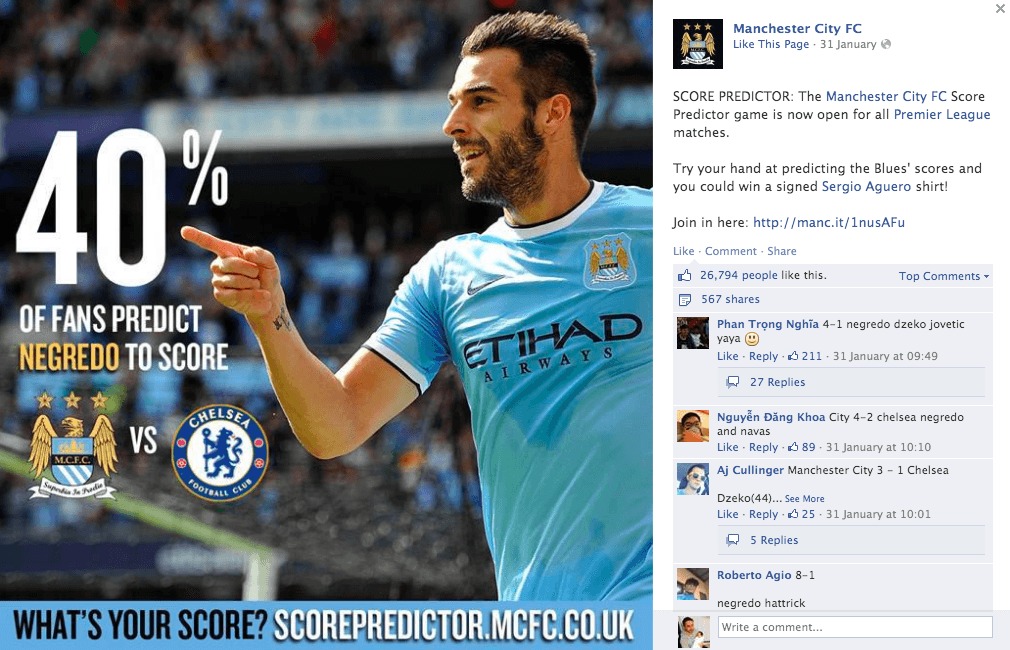 Compare this to other posts on the page; Paddy Power's promotion for a new account 'exclusive' saw only 97 'likes' and Man City's own celebration of reaching 9m fans gained 29,000 'likes'.  Fans are known not to like promotion posts but by tapping into a behaviour that all fans undertake, they are succeeding in helping clubs like City enhance their marketing and sponsorship.
This solution offers a great solution for clubs looking to tap into their social media fan bases, which are often a lot bigger than their own CRM databases.  The challenge for clubs is to utilise this data and use it in meaningful ways, ensuring they engage the fan as much as trying to 'monetise' them through ticketing, merchandise and sponsorship promotions.
What do you think the score will be tonight?  I've gone for a 1-1 draw.
Over the past few weeks, much has been made about football transfers and the digital numbers behind them. Neymar's transfer to Paris Saint-Germain will see the Parisian club cash in
Football fans looking to impress friends with their football knowledge have today been given a lifeline, as global music streaming service Deezer announces an all new football-focused podcast in partnership
As the Premier League returned to the TV screens of football fans around the world last weekend, it also returned to their smartphone screens, too. For plenty of fans, following