Scarlets – First Rugby Club to Use Social Ticketing Application
UK rugby team Pioneers a new, socially-smart way for fans to purchase match tickets.
Scarlets' new Facebook ticketing app, created by Evento Social Promotion, enables fans to not only see which of their friends are attending a particular event, but also find and purchase tickets next to the people that influence and share their passion.
Evento utilises cloud-based technology and API integrations to create a socially-smart ticketing solution for event owners. Evento's approach complements existing ticketing channels/relationships by expanding event awareness while enabling and empowering fans to identify and select available seats based on their friends' locations.
Commenting on the launch of the app Scarlets General Manager Jon Daniels said:
"It's fantastic to be launching new socially-smart initiatives that will ultimately make the purchasing process much easier for our supporters. Social media plays such a big part in the day to day communication and marketing of the Scarlets and we're delighted to be making such positives strides in this area and continuously improving the fan experience for our supporters."
Evento, the company which develops the app has already partnered with soccer and basketball teams, but Scarlets are the first rugby team to use it. Ophir Zardok, Evento CEO & Founder said:
"After launching the SitNearMe app with sports teams in the US, Germany and Israel, we are very excited to see Scarlets pioneer social event promotion in the UK. Social event promotion together with Social ticketing are one of the sports industries' biggest drivers for new revenue sources. Not only do they increase ticket sales and matchday revenues, but they also offers sponsors and partners new options for digital activation. We believe that more UK clients will follow scarlets in the upcoming season."
Scarlets new social media approach represents sports teams' constant challenge to leverage on their social media assets and convert their "likes" into revenues. The upcoming season will prove both if Scarlets made the right move and if Evento will partner with more top level sports teams.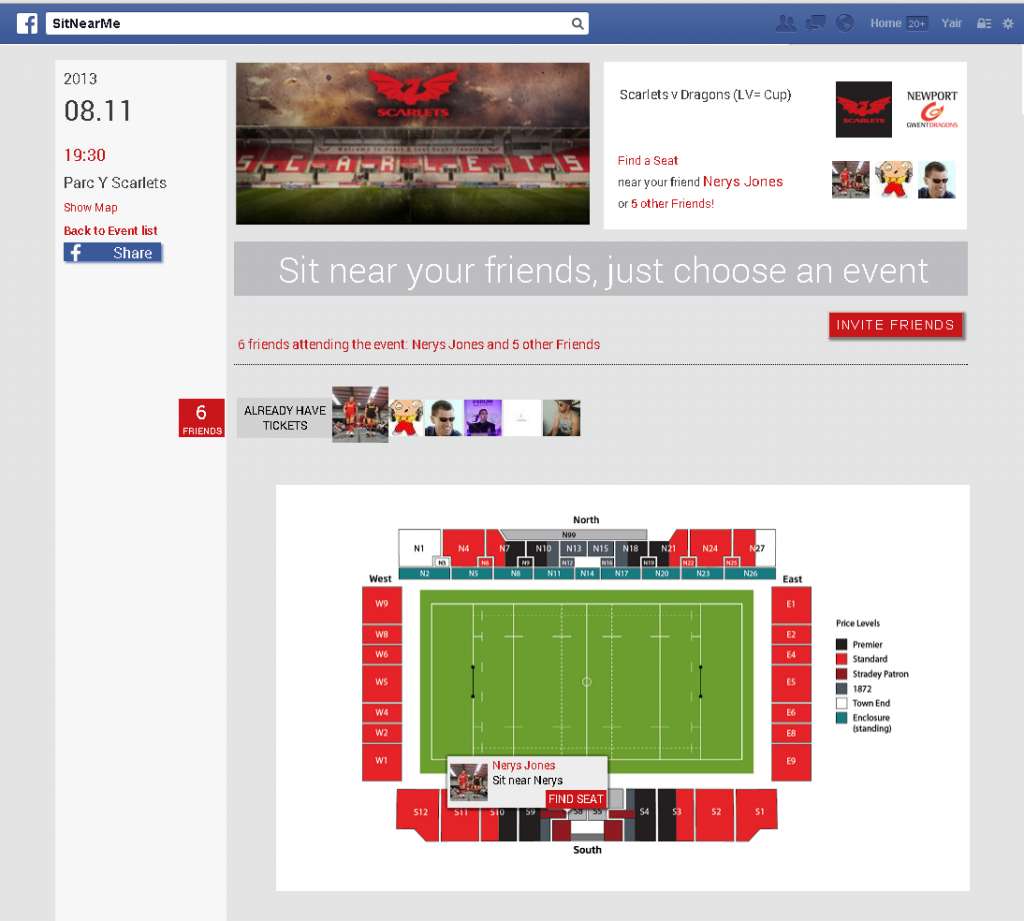 This week saw Betfair again try to use an innovative approach for QR Codes with their 'marketing with balls' campaign, but this time with little success. Now please stop it with the pointless QR Code stunts!
I'm delighted to announce the upcoming event which is part of the awesome 'Social media Week London' which runs from 7th – 11th Feb. Find out how the sports industry and the BBC are bringing social media centre stage, featuring major speakers from across the world of sport and broadcasting.
Where as location based services Foursquare, Gowalla, Hot Potato, Yelp and others relied on social networking to spread their message, Facebook turned the tables and are now trying to stamp its authority in the geolocation game by creating its own platform