How Important is it for Sports Brands to be 'Reactive' on Social Media?
Guest Post: Krishan Majithia is a Social Media Executive at sports social media agency We Play. He is an FA level 2 qualified coach at Headstone Manor as well as being the brains behind 'Tactical Sunder'. Follow him at @krishm91
The age of social media has allowed brands to become closer to 'real time' conversations, giving them direct access to a world-wide consumer base. Real time Social Media sites such as Twitter allow brands to engage with fans and potential customers by joining in conversations about sport and reacting to events when they happen.
Of course, this access has cast forward the importance of hiring experts to manage social media activity, as mistakes can have immediate consequences, which become the subject of public humiliation and social media can quickly go from a brand's most useful marketing tool, to its ultimate downfall.
The dynamism of social media and the vast number of platforms from which it can be accessed, means that fans and consumers expect more than basic advertising content from brands. The real-time nature of social media means that these brands can communicate and share innovative messages (at the click of a button) within relevant 'hype-circles'.
When a technical error meant that only four Olympic rings showed up during the opening ceremony of the Sochi Olympics, an advert supposedly from Audi emerged with the tagline "When four rings is all you need". As it turned out the advert, which can be seen below was not real, however, this was the epitome of 'reactive advertising' and was shared 1000's of times with calls by Audi fans for it to be made into an official Audi advert.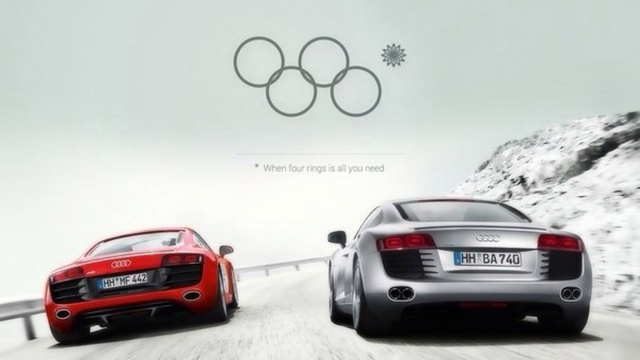 Another slightly different example was after Andy Murray won the 'Sports Personality of the Year Award' in December, his sponsors- Adidas- took the opportunity to poke fun at the Tennis superstar, using the combined hype of the award trending on Twitter, with a bold, yet tongue-in-cheek tweet to advertise the adidas brand, stating that his achievement was "Not bad for a man with no personality".
Congratulations @andy_murray! #allinformurray pic.twitter.com/3WT0F9pYhD

— adidas UK (@adidasUK) December 15, 2013
This was likely not strictly reactive, but was created weeks before the award on the chance of the Scotsman won. However, it was released at an opportune time, providing a humorous alternative to the saturated messages of congratulations that were lost amongst the trending topic on Twitter, something that is key to implementing reactive adverts.
This idea of using humour is one of the most popular uses of reactive marketing and provides a key platform for making your brand's message stand out. Arguably, such a policy is even more useful when used off the back of a seemingly negative event, such as Oreo's 'Dunk in the Dark' tweet after the blackout in last years Superbowl, or Specsavers clever connection between the North and South Korean flags being mixed up during the Olympics, and their "Should have gone to Specsavers" slogan.
It is often consumer goods brands, such as the two above that use sporting events as a catalyst to launch reactive advertising, so why should it not be the same for sports brands?
What can be learnt? 
Sports is arguably one of the toughest industries within which to operate, due to the high level of brand loyalty. This is especially true for sports clubs, who may take the approach of stronger engagement with fans, rather than traditional advertising techniques. After all, somebody is not going to simply change the sports team they support, just because of an impressive marketing campaign.
However, even sports clubs can use a form of reactive advertising. Last week, Everton were the talk of social media after inviting Malaysian fan, Ric Wee (who had come to watch the Toffees for the first time) to meet the players and coaching staff after their match against Crystal Palace was called off. The story went viral, with fans of all teams congratulating the club for showing their human side.
There is of course a lot that all football clubs do behind the scenes that does not necessarily gain the same notoriety, so what made this particular story go viral? Fans saw this story unfolding in real time and the club reacted within minutes to find Mr. Wee. It was spur of the moment, and that made it special. This will not only bring the existing fans closer to the club, but from a business point of view, could also help to attract both new fans in emerging countries, as well as sponsorship opportunities from companies who see the club trending on social media.
The key for sports brands utilising reactive advertising is to be aware of what is going on in the world. Whilst it is important to have a pro-active rather than reactive strategy for every day social media engagement, brands should not allow themselves to switch off and miss the opportunity to strike advertising gold when something out of the ordinary occurs.
As consumer insights company Nielsen pointed out last week, football clubs produce quite a lot of content for their fans to consume. Especially on social media, this is the sort
The football season has only just started and we're already seeing clubs move on from creative/silly transfer announcements – though we still have more than a week left for more
Twitter's recent moves to add as much live sport to their platform as possible took an interesting turn this weekend with the arrival of BT Sport's Score programme, streamed live