How driving innovation has led to big savings on the Formula 1 circuit for broadcaster Sky
Formula 1 is one of the highest profile, most glamorous, and almost certainly the most technologically advanced sports. It's also one of the most challenging live television productions to pull off, especially when you consider the amount of equipment that has to be shipped, installed, rigged and packed away again at each circuit for a full HD broadcast. Factor in that this needs to be done for 21 separate race weekends over nine months at locations as diverse and far-flung as Monaco, Montreal and Malaysia, and the sheer scale of the undertaking becomes clear.
For the 2015 season, Sky Sports, the main Formula 1™ broadcast rights holder in the UK commissioned specialist systems integrator Gearhouse Broadcast to design a revolutionary lightweight portable 'flyaway' production unit. They wanted something that could be easily transported to all of the races, with as much as possible of the required equipment pre-installed so it was quick to set up and break down on site. Flexibility and being robust enough to survive the rigours of being shipped around the world over a multi-year period were key. The broadcaster was looking to provide a familiar and comfortable home for its crew to ensure consistency in its output no matter the location. The aim was to create something that would deliver more for less, enhancing the overall quality of the TV production throughout each race weekend for Sky Sports' viewers while also reducing the growing operational costs.
A new race strategy
Gearhouse Broadcast worked closely with the Sky Sports operations team to create OBPod. It's a flyaway consisting of six interconnecting pods, all built on the standard air freight PMC rectangular pallet footprint to simplify the associated logistics. Each pod housed a different element of the production workflow, so there was a production gallery, an audio pod, an edit pod, an EVS pod for instant replays and a master control room where much of the broadcast infrastructure was installed.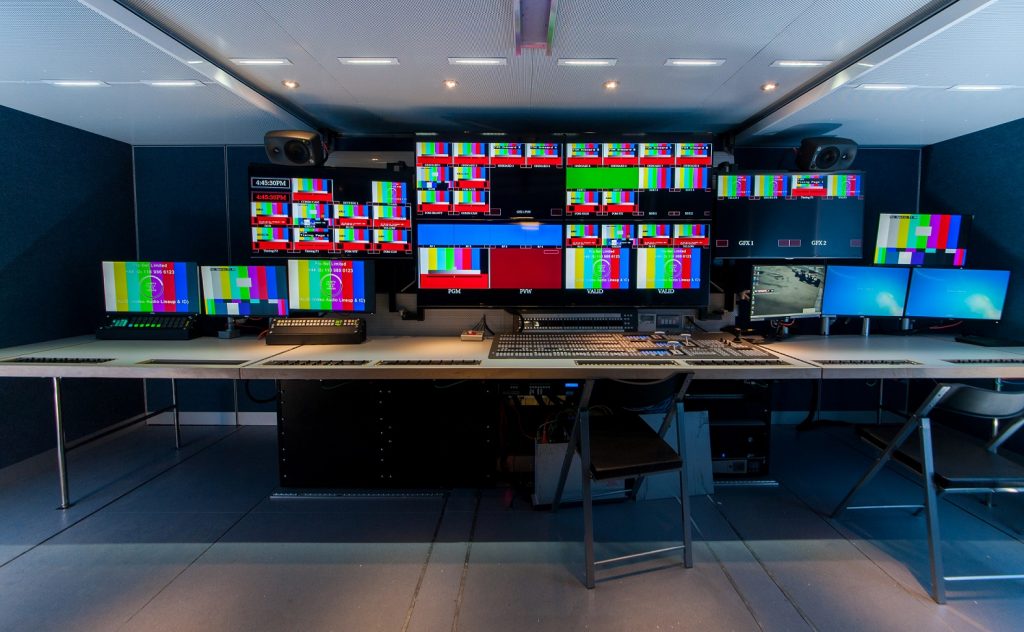 To give the crew as comfortable a working environment as possible, renowned coachbuilder A Smith Great Bentley was called in to design pods with expandable sides for a larger overall footprint once they were in position within a circuit's TV compound.
Everything inside of OBPod including equipment and furniture was scrutinised to make sure it could deliver the highest production values and withstand the international shipping while remaining as lightweight as possible.
After a successful first season using OBPod, Sky felt that there was potential for it to go even further. They wanted it streamlining so that the live productions of each race from sister broadcasters Sky Italia and Sky Deutschland could also be incorporated into the same set up. By doing this, the broadcasters could make additional savings in the amount of infrastructure and equipment required at each race. It also meant they could leave all of the technology requirements and management to a specialist partner like Gearhouse and focus purely on the creative aspect of production.
Pre-season upgrades
Once the 2015 Championship was over and the drivers and teams headed off on for a well-earned break, OBPod was returned to Gearhouse's headquarters in Watford, UK and the team worked around the clock on a complete overhaul. The challenge was how to fit two new production infrastructures, workflows, teams, cultures and ways of doing things into what was already a tight space.
Overseeing the upgrade was Ryan Campbell, Gearhouse's OBPod unit manager. "We worked 12 hour days, six days a week during the off-season to get OBPod ready for 2016," said Ryan. "It was a big challenge to incorporate Sky Italia and Sky Deutschland and their workflows into an area where space was already at a premium, without impacting on the user experience that Sky UK's crew had enjoyed the previous season."
As part of the new set up, Sky UK, Sky Italia and Sky Deutschland each have their own dedicated pod housing individual productions galleries. The EVS replay and edit pods from 2015 have been combined into one new server pod while the audio and MCR pods have been upgraded so that all three broadcasters can use them. There is also a storage pod incorporated into the layout.
OBPod is not just a collaboration between Sky Sports and Gearhouse Broadcast, it's a collaboration between many technology suppliers that operate within the outside broadcast industry. "A lot of the kit we're now using with OBPod has been adapted from what was originally supplied so that it exactly meets our requirements, which can be slightly different from a regular outside broadcast," added Ryan. "The good relationships that we've built up with these suppliers, many of whom join us at each race, have meant that we can work together to develop these little fixes or enhancements, sometimes even sketching them out on a paper napkin over a beer in the hotel bar!"
Team orders
Sky Sports director of operations, Keith Lane, who has been involved in the design of OBPod from the outset, said: "Reducing transportation costs was central to our thinking in terms of the production infrastructure. We needed to meet the challenges of covering an entire Formula 1™ season at the level that our viewers have become accustomed to. Given the busy calendar and distances between circuits, costs can really mount up over a Championship, so it's important that we continue to find innovative ways like this to make substantial savings."
Gearhouse's Ryan Campbell, who travels to each race added: "The results of the streamlining throughout the 2016 Formula 1™ Championship have been great, and feedback from all three broadcasters has been overwhelmingly positive. When the operators arrive onsite now, the backdrop may have changed, but the desks, monitors and even the comms panels, keyboards and mice are exactly where they were left them at the last race. They literally turn up, collect their call sheets and they're ready to go. We've even managed to further reduce the overall weight of OBPod by more than 1.5 tonnes from 2015."
Sky's Keith Lane concluded: "It's been a fascinating process to follow OBPod's development, from adopting the standard AMP rectangular container footprint, to comparing the size, weight and performance of the elements within it. It's also been interesting to think what can be pre-installed so it doesn't have to be done on site, race after race. When you spend as long on the road as our F1™ crew does, anything that can cut the amount of time they have to be at the circuit is very welcome. This has been an ambitious, yet ultimately rewarding project, both financially and from an engineering and systems integration point of view."
The proliferation of podcasts over the last few years has been massive, so much so that there are too many to listen to and, now that subscriptions have become a
Over the past few weeks, much has been made about football transfers and the digital numbers behind them. Neymar's transfer to Paris Saint-Germain will see the Parisian club cash in
As the Premier League returned to the TV screens of football fans around the world last weekend, it also returned to their smartphone screens, too. For plenty of fans, following