Google Glass to get first sport-outing at Wimbledon?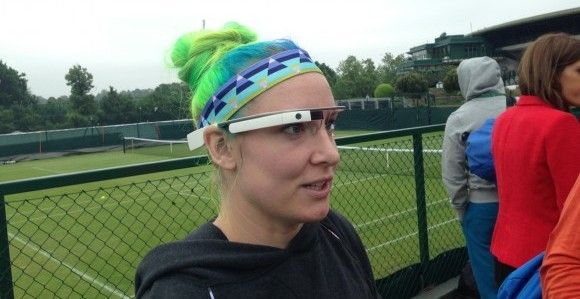 Bethanie Mattek-Sands, No. 58 in the WTA rankings, will be wearing Google Glass at Wimbledon this year. The exciting news is the first of its kind and demonstrates Google's confidence in Glass and their belief that Glass is comfortable, secure and not distracting.
Even ahead of the tournament she has been experimenting with the technology whilst at the Wimbledon player party, sharing some of her pics from the night via the glasses.  The big question now is if she will be allowed by the organisers to wear them during a match.
Google says Mattek-Sands has already benefited from Glass, as have her fans:
"Glass's potential in the sports realm is huge, and it can connect athletes, coaches, and fans in new ways. For Bethanie, it's allowed her to capture her strokes from her point of view during practice and share those with her coaches. It also helps her search recipes and perfect her cooking, something that's important to a professional athlete with dietary allergies and restrictions. Bethanie's fans can also see the world through her eyes as she embarks upon the road to Wimbledon, where she'll play her first match next week."
My first thought was whether or not hand-eye coordination would be affected, but given that Glass is more likely to just be used as a camera, this shouldn't be an issue. The other consideration is the length of time Glass will record for, and whether or not that will need to be activated on the court. Also, will it live stream? There are lots of questions to be answered.
Obviously, Wimbledon organisers could well jump in an ban it but the mere fact Glass is being considered for live, professional sport is a huge step for the product, and for the future of sports video broadcasting. Just imagine Ian Poulter (he seems the type) wearing Glass on the 18th tee at Augusta in 2014. Or perhaps looking through the batting-eyes of Alistair Cook in the Ashes later this summer… The opportunities are endless.
Below are a couple of Bethanie's tweets as she got ready for the Player Party;
Just shared a photo #throughglass pic.twitter.com/foEAbjQhq5

— Bethanie MattekSands (@BMATTEK) June 18, 2013
Turn back a few hours when @projectglass and I were getting ready for the pink carpet @WTA @Wimbledon @TiSportsMktg pic.twitter.com/zWQsxUM1AX

— Bethanie MattekSands (@BMATTEK) June 20, 2013
March Madness doesn't disappoint The first weekend of the 2017 NCAA Men's Basketball Tournament wrapped up on Sunday. Despite some dull games games at the beginning, by weeks end there were
The digital revolution is growing at pace. And televising it is not on the agenda. Not for Adidas, anyway, according to latest quotes from the sportswear giant's CEO Kasper Rorsted.
Over the past decade, FC Barcelona has established itself as one of the world's most powerful football clubs. Their success on the pitch, domestically and internationally, remains unmatched. Yet despite