Facebook changes and what they mean
Last week Facebook held its annual F8 conference where it announced a raft of changes that will come into effect in the coming weeks.
There have been some more immediate repercussions that are already being felt, especially by people who run Pages.  I'm not going to go into great detail about what happened on the night as this has been extensively covered.  Click on the links for articles by Brian Solis and The Next Web.
From reading endless articles on these changes and looking at them for myself there are a few areas worth highlighting.
1) Pages updates are showing less in newsfeeds
This is something that has been raised by several people in the last few days.  If you check out your newsfeed now you will see that more emphasis has been placed on updates from friends and less now from Pages.  This can be seen as decreasing the clutter by Facebook and also be seen as pushing people who run pages to spend money with them.
Zuckerberg announced that sponsored stories and apps would play a significant role in helping to tell stories.  Critics will say that it penalises those who put a big effort into providing great content within smaller communities as they cant afford to pay for Facebook's features.We wait to see what the impact will be.  How this affects likes, comments and visitor numbers.   It will certainly provide new challenges and affect how Pages are run and what they do for brands/clubs.
2) User Profiles – Introduction of 'Timelines'
Many people will be scrambling to delete embarrassing photos and updates they regret posting from when they first started on Facebook (people I know already have).
In a few days time the new profiles will go live and affect how people see themselves and their social presence.  It will be easier to skip through friends profiles to see what they posted in 2008 and give a sense of their recent history.  Here is what it will look like.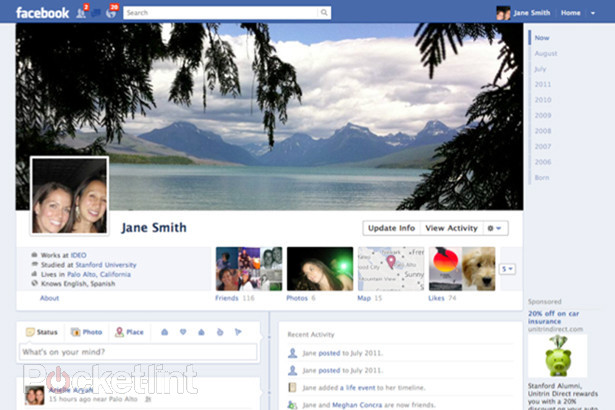 There are opportunities to become more involved in this timeline.  One of the most visual changes is the 'cover image' at the top of the page.  People will take their time to make this representative of what they like or are feeling.  It visually represents that person on Facebook, taking over from the profile picture as the most important feature.  You use pictures you have taken yourself but mobile uploads will come out blurry so many will search for images more suitable.
3) You can do more than just 'like' now
Developers can now use any verb when incorporating Facebook into other sites.  You can 'recommend' an article or 'love' some shoes or 'is listening' to a song.  The possibilities are pretty much infinite.  It gives fans more of a chance to interact and makes content more relevant as you don't need to just like it.
4) You don't need to 'like' a page to post on walls
This has implications for all those still hung up on follower numbers.  People will be able to join in with the discussions without having to add you to their liked pages.  Here is some more info on how it works.
Overall thoughts on these changes – the world is still going to turn and we will still be using Facebook for the foreseeable future.  Some of the changes are yet to fully realised and we wait to see how they will affect us.
There are some cool opportunities around things like apps (esp the social reader functions), the new use of verbs to replace 'like' to make interaction more meaningful and the new user profiles look pretty cool.
I'm sure there will changes to Pages so that their look and feel is more in line with the User Profiles.  How long this will take to be announced we don't know and what other changes will be implemented we don't know either.
Again it is a time for experimentation, watch what other people are trying and seeing where Facebook sits within the over all club/business plans.  This is a very quick review but I hope a helpful one.
Any questions please drop in the comments box and I'll do my best to answer them.
As consumer insights company Nielsen pointed out last week, football clubs produce quite a lot of content for their fans to consume. Especially on social media, this is the sort
The football season has only just started and we're already seeing clubs move on from creative/silly transfer announcements – though we still have more than a week left for more
Twitter's recent moves to add as much live sport to their platform as possible took an interesting turn this weekend with the arrival of BT Sport's Score programme, streamed live