Best Use of Social Media in Football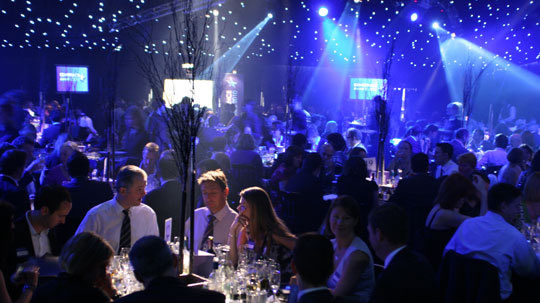 Tonight sees the great and the good from the world of football get together at Stamford Bridge to celebrate their achievements.  The Football Business Awards is about all aspects of football business and is being presented by SkySports News regular Vicky Gomersall.
There are a number of categories (Best Club Marketing Campaign, Best Business Serving Football, Best Match Day Catering, Most Innovative Use of Technology, etc, etc) but there is one in particular I would like to point you towards…
Best Use of Social Media in Football
This has been judged on those seeking innovative ways in which to use social media that delivers commercial results.  As part of the criteria for entry, they had to show evidence of audience engagement and message amplification.  Sadly I was not part of the judging panel…. maybe next year 🙂
There is an interesting list of those who have made the shortlist, some of which we would expect to be in there and others which are a bit more left-field.  The one thing we dont know is what exactly they have been nominated around and what has made them stand out to the judges.  They each either have a great strategy or have a great product.  I'll go through as best I can and tell you what I know;
Arsenal Media Group
The club have been at the forefront of social media for a while and been consistent with their approach.  What they give is great insights into what happens behind the scenes and access to players.  They run regular Twitter Q&A's and have posted a huge amount of content on YouTube, all of which you cannot help but admire.  They also have a large number of young players who use Twitter and who have managed to keep out of the papers on the whole.
Manchester City
Dont need to say much here.  Through the efforts of firstly Richard Ayers and now Russell Stopford and their team they have pushed the boundaries more than anyone else in football (and probably sport).  They have introduced the 'Tunnel Cam' which fans can access on match days, held G+ and Twitter Q&A's and even introduced a new word into our vocabulary 'datatainment'.
Stream UK
This one on here I hadn't come across before. But what I do know is that they have been working very closely with Liverpool FC on their video content.  To the extent that a person I know well, Ryan McKnight (FC Business), has been quoted as saying "What Stream UK are doing with Liverpool FC is the best practice I have seen in the online football video area." Nuff said.
The Football Association
This for me has two factions that are both worth highlighting.  In the men's game they have continued to be progressive and provide regular live video content during England training sessions and utilise all their social channels around match days.
The women's game has been even more interesting. Another good friend, Leigh Moore, has been making sure they have been at the forefront of experimentation and pushing the women's game as far as it will go.  They have been highlighted by FIFA and UEFA for their brilliant Digital Ambassador Programme'. Their efforts have been recognised by many peers and have been nominated for numerous awards (hopefully including this one).
We R Interactive
Another business I know well having been an earlier player of their lead game I Am Playr, which now has over a million monthly users.  They have been innovating for some time, integrating the use of video and gaming to be one of the leading pioneers.  They are part of Big Balls who have worked with the likes of Oakley (the brilliant You Vs series), developed the exciting Copa 90 video channel, become a partner on new Gillette Football channel on YouTube and much more.
Opta
Have loved how they have become leaders in the football data field and how they have used social media to become a world renowned business.  Their Twitter accounts show personality as well become a must-visit source of information for all football journalists.  They have formed partnerships to spread their work event further with the likes of Squawka, who are also part of the Gillette Football Channel on YouTube (it's a small world).
WhoScored.com
Another one I have not come across before, possibly because of my lack of interest in getting past the watching of football (and social media use).  Like Opta they are working on revolutionising football statistics.  It's becoming an increasingly competitive field with second screen football apps and sites cropping up everywhere.
Samsung Electronics
This is a little bit of a shot in the dark as to what they are nominated for…..my guess is 'THE Football App'.  They are calling it the 'ultimate football app' which lives on their smart TV's and enables fans to access live commentaries, latest news and stats from the beautiful game.  Have not used it myself but looks like it could be a game changer.
We're not taking money here but love to hear who you think deserves it from this list.  To find out who actually does, make sure you follow @footiebizawards for the lastest news.
As consumer insights company Nielsen pointed out last week, football clubs produce quite a lot of content for their fans to consume. Especially on social media, this is the sort
The football season has only just started and we're already seeing clubs move on from creative/silly transfer announcements – though we still have more than a week left for more
Twitter's recent moves to add as much live sport to their platform as possible took an interesting turn this weekend with the arrival of BT Sport's Score programme, streamed live